Thermal Insulation Rochester MN
Rochester's best source for thermal insulation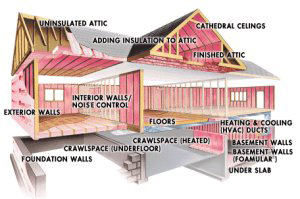 Updated 12/7/2012
Ryan Insulation offers the largest selection of thermal insulation, thermal fiberglass insulation and more. The long term performance makes thermal batt insulation stable and perfect for wall cavity installations. Thermal insulation is great for reducing high energy costs and noise. Most homes have some form of thermal insulation or batt insulation. If your home is old enough you may need to improve your walls internal batt insulation. The thermal insulation of the past is prone to breakdown and can slump inside your home's wall cavity's over time, which reduces thermal insulation's performance and overall value to improving your home's energy efficiency level. Thermal batt insulation is used in a variety of wall and roof applications. You can install thermal insulation in wood or metal framing cavities and is often used in sheds and garages to improve internal temperature and comfort. Don't settle for just any insulation contractor in Rochester, give a call to the pros at Ryan's!
Fill Out This Form To Request A Free Estimate

According to Google's web definitions thermal insulation refers to material used to reduce the rate of heat transfer. During the winter heat escapes from your home through a variety of key points including walls, attics, floors and other areas. Thermal insulation in batt and non-batt form is a great way to reduce this heat transfer, allowing you to save money heating your home. Thermal insulation is created using different energy efficient materials, like fiberglass (the same stuff many homeowners have blown in their attics). There are literally countless ways to improve your home's energy efficiency with thermal insulation. Give us a call today!
Learn more about thermal insulation with our interactive catalog
(507) 281-6363